Gold Stinger X5
---
INR 280000.00

(Inclusive of custom duty)

GOLD STINGER X5

Stinger Detectors presents the Gold Stinger X5, which carries many new technologies the device is distinguished by the accuracy of discovering precious burials, the speed of its work, and its ease of use by all users

GOLD STINGER X5
Stinger Detectors presents the Gold Stinger X5, which carries many new technologies the device is distinguished by the accuracy of discovering precious burials, the speed of its work, and its ease of use by all users.
Gold Stinger X5 by Stinger Detectors is a new reliable metal detector designed with the latest technologies in the field of metal detection to provide the best performance in detecting underground targets and at relatively greater depths compared to competing devices.
Device Developing Systems
Easy Using and Fast Response Systems
Discrimination System
This mode is the preferred mode for detection of small size targets located at the surface at small depths, example includes such as coins and tiny gold nuggets and small relics or jewelry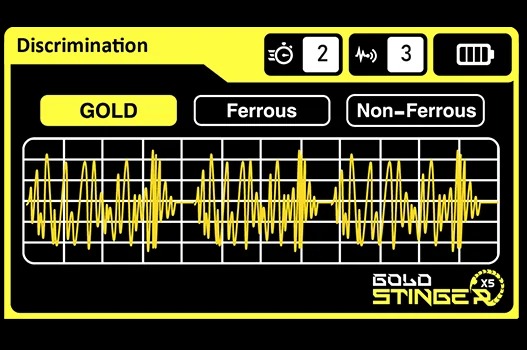 All Metals System
This detection mode is a powerful mode for detection of different targets including buried objects made of gold such as golden coins, jewelry and natural gold or deep treasures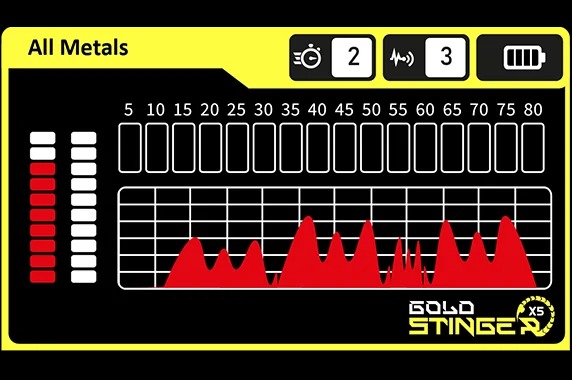 Pin Pointer System
The device integrate Pinpointer functionality to pinpoint and find the exact location of potential buried targets during excavation without need for separate Pinpointer device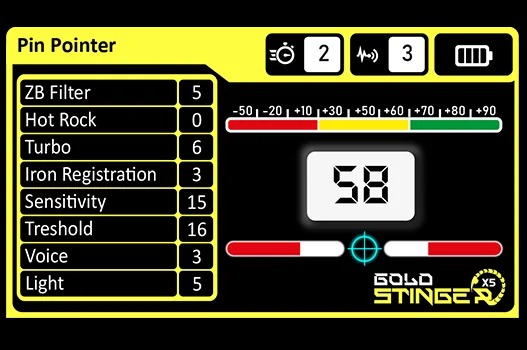 GOLD STINGER X5 FEATURES
Stinger Detectors offers the Gold Stinger X5 device for all novice prospectors with great features for professional prospectors also, and all prospectors can use the device for multiple purposes including coin shooting, relic hunting, natural gold prospecting and manufactured gold detection such as gold jewelry like bracelets, rings and any metal targets small or large in size.
Gold Stinger X5 developed based on practical experiments in the fields within various terrains and different types of soils; the device performance tested in detecting various types of metal targets of different sizes, which manufactured from various metals, to test a set of useful features that meet the aspirations and needs of prospectors around the world.
Gold Stinger X5 Applications & Uses
Metal detection of minerals of all metal types including ferrous (like iron) and non-ferrous such as Silver, Copper, Platinum and others.
Coin shooting of ancient or new minted coins made of gold, silver or copper
Relic hunting of ancient artifacts such as statues, swords, daggers, weapons, drinking goblets and so on.
Natural gold prospecting of gold nuggets , gold veins and
Uncover deep buried treasures such as golden chests, valuable antiquities and archaeological treasures of historical value.
Underground cavity detection including for example: tunnels, chambers, tombs, catacombs and caves.
Technical Specification
EASY TO USE MANY FEATURES
Auto Ground Balance
This feature is designed in auto and easy-to-understand English so that a person who has never used a detector can use this professional detector.
Depth Indicator
Estimating the depth of the detected targets through a simple mechanism that displays the approximate depth of the detected target
Pinpoint Targets Locations
The device integrate Pinpointer functionality to pinpoint and find the exact location of potential buried targets
Turbo Depth
Provides the possibility of detecting targets at depths greater by 30%, which increases the possibility of discovering valuable treasures.
Multi Languages User Interface
The graphical user interface of the Gold Stinger X5 device is available in multiple languages, including the most important spoken languages around the world, to provide the prospector with a metal detector in his own language, which provides a better understanding on how the device works and its options, especially for users who do not master another language.
The languages available on the device are:
English
French
German
Spanish
Russian
Arabic
Turkish
Persian